The First Presidency of The Church of Jesus Christ of Latter-day Saints has released the location of the Barcelona Spain Temple.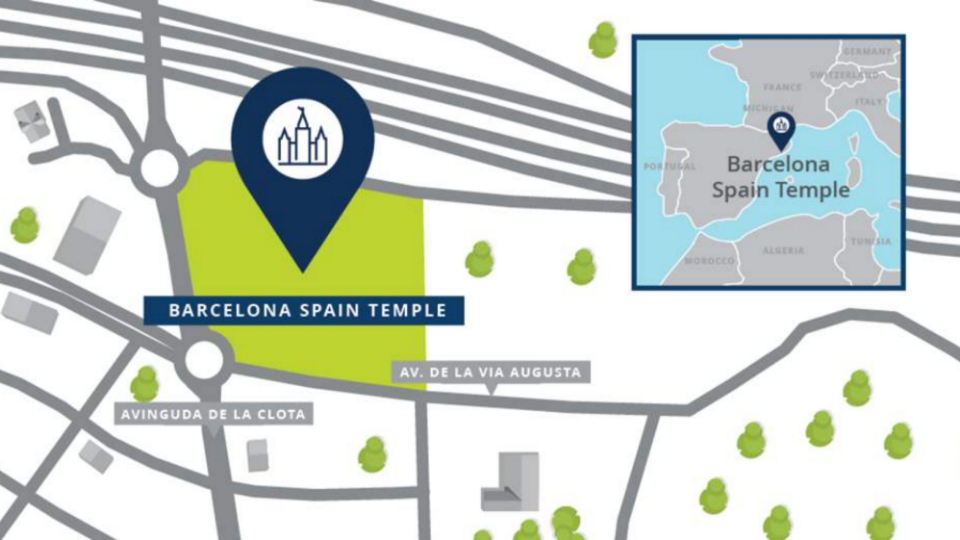 This temple will be built at the intersection of Avinguda de la Vía Augusta and Avinguda de la Clota, Sant Cugat del Vallès, Barcelona, Spain. Plans call for a two-story temple of approximately 27,500 square feet. An ancillary building of approximately 13,600 square feet, with patron housing, an arrival center and a distribution center will also be built on the 5.4-acre site. Church President Russell M. Nelson first announced the Barcelona Spain Temple in April 2022. This will be the second temple in the country. The Madrid Spain Temple was dedicated in 1999. Spain is home to more than 61,000 Latter-day Saints in over 130 congregations. Melitón González Trejo, an officer in the Spanish army who visited Utah in 1874, played an essential role in the translation of the Book of Mormon into Spanish after he joined the Church. The first Latter-day Saints in Spain were baptized during the 1950s and 1960s.
Detailed design plans for this temple are still being developed. Further information, including exterior renderings, will be made public later. A groundbreaking date will be announced in the future.
Project leaders will soon start working with city officials on preliminary plans for this temple, and they will begin filing public documents in the coming months.
Latter-day Saints consider temples the house of the Lord and the most sacred places of worship on earth. Temples differ from the Church's meetinghouses (chapels). All are welcome to attend Sunday worship services and other weekday activities at local meetinghouses. The primary purpose of temples is for faithful members of the Church of Jesus Christ to participate in sacred ceremonies, such as marriages, which unite families forever, and proxy baptisms on behalf of deceased ancestors who did not have the opportunity to be baptized while living.